Are you passionate about living a balanced life—about being a good steward of your life and time? Do you desire to get more done more effectively and yet still have family time, rest, and restoration? I sure do. I've tried to be a student of time and life management—to redeem the time that God gives me for the purposes to which He has called me.
Over the years I've tried to read everything I could get my hands on regarding this subject. Often I'm asked "what are the best books on time management that you have read?" I think this is the most common question I get asked. So here they are. Please note: this list is not a full endorsement of these writers or of everything these books contain.
Overcoming Overload: Seven Ways to Find Rest in Your Chaotic World
This is first because it gives a spiritual foundation to everything you might read in the other books. Steve Farrar shares seven principles in this book that will help you develop biblical balance. He is very practical but also very scriptural. The bottom line: God blesses His Word. When you align your life with biblical priorities and values, God takes over from there and He honors you for honoring Him. This book will help you balance your time and life in a way that truly honors the Lord.
This book is a must read for those desiring to define "what is important." If you read it with a biblical perspective, the principles are timeless and instantly helpful. This book will help you stop living in crisis mode and will help you have a clear conscience about how you balance your life. It's not the nuts and bolts of task and project management, but rather a bigger picture book—defining the values that lead to every day choices. It's a major life-changer for sure!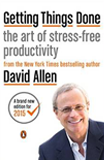 Getting Things Done: The Art of Stress-Free Productivity
These first three surpass all the rest. They may as well be the only three! "Getting Things Done" is written from a corporate perspective, but it outlines the most simple, and effective process of plowing through the river of details and opportunities that come at you in a given day and actually grasping and executing the things you must do. It's a "nuts and bolts" book for personal productivity.
The process that David Allen writes about is not confined to a system or a particular software or organizer. That's its strength. Anyone can do it and you can cater it to your own way of thinking or to the system that best works for you. It's worth reading annually just to stay fresh. The best thing about his process is that it's easy to "get back on" when you "fall off." By the way, this book has a wealth of online support from users all over the globe, as well as many software programs based upon its principles. (Many refer to it as GTD.)
The Power of Full Engagement: Managing Energy, Not Time, is the Key to High Performance and Personal Renewal
Again, written from a secular perspective, this book gives a very different analysis of our time management problems. It is about managing energy, not time. It will help you understand how your body and mind work, and it will help you maximize both your high energy and low energy times.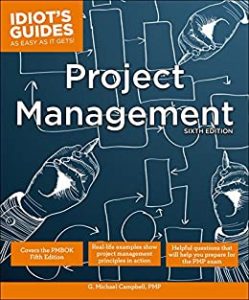 The Complete Idiot's Guide to Project Management, 6th Edition
This book was actually one of about five I ordered when preparing for some staff training on project management. Of all five books, this said the same thing, but better! This book was a great help and taught me the basic principles of leading and guiding projects from start to finish.
These are five of the most helpful books on life management and productivity that I've ever read. They each address time and life management from a different perspective. I hope these resources will challenge you to steward and to invest your life the way the Lord desires! There's no greater joy than to live every day knowing that you are in the center of the perfect will of God for your life! You cannot be more productive and effective than that.
(Note: You can click the photo or affiliate link to purchase the book through Amazon.)